International Adoption Services

Why consider international adoption?
It's simple: so many children need a place to call home. So many people want a child to love!  Adoptive parents come to the adoption decision for many different reasons. Some adopt because of infertility, and adoption is their alternative way to grow their family; others adopt in order to add to their family, to help a specific child, or for social justice reasons.
Globally there are reportedly millions of children orphaned, languishing in poverty, orphanages or living on the streets.
American citizens are seeking to adopt children from abroad in ever increasing numbers.  Each year thousands of children come to the United States from foreign countries, either adopted abroad by U.S. citizens or as potential adoptees.  Between 2009-2012 the USCIS reports 242,602 total adoptions from foreign countries to US citizens.
Why are so many children available?
In foreign countries and in the United States high poverty rates, high fertility and live birth rates, unemployment, lack of education and other factors most frequently lead to children becoming available for adoption. These reasons, combined with cultural stigmas such as unwed mothers, the lack of government-funded social service programs, family protection policies and a lack of economic resources provided by the government all contribute to a situation where families are faced to placed their children for adoption. 
It is in the child's best interest that, whenever possible, a child remain with their birth families, followed by adoption within their own country. Poverty should not be the sole reason someone chooses to place a child for adoption, and in most cases it is not, as evidenced by the fact that the vast majority of families who live in poverty do not place their children for adoption. Complex pressures from both inside and outside the family virtually always contribute to the decision.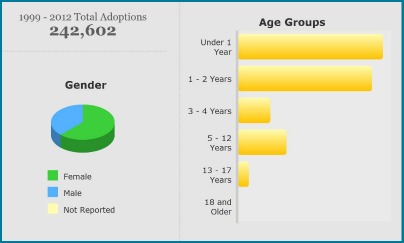 Who can adopt?
A Love Beyond Borders provides adoption services to qualified singles and married couples, without regard to race, creed, sexual orientation (within the scope of international law), religion or marital status.
Most foreign adoption programs have flexible guidelines as determined in the foreign country, but sometimes an adoption agency itself sets specific or restrictive criteria for adoptive parents. That is one reason for the discrepancy of requirements which a prospective adoptive parent may find from agency to agency.
At A Love Beyond Borders we require that prospective adoptive parents meet the guidelines set forth by the foreign country, which often include single men (although with limited options) and single women, older parents, and families with a large number of children already in the home. A Love Beyond Borders offers assistance to both individuals/couples seeking to become parents and children in need of parents, and brings the two together; children needing a home and people wanting a child to love. The first question is how to get started.
Choosing Your Adoption Journey
The cost for adoption and the length of time it takes to complete the process varies depending on which country you choose. But the following is a typical process for international adoption:
Choose A Placing Agency: Not all agencies are equal.  Find the agency that best matches your needs and wants, fees, level of customer service, reputation, support, accessibility and after all the research is gone choose the agency that feels most comfortable to you.
Apply: Complete LBB's convenient online application.
Choose a Country Program: Undecided about which inter-country program to choose? We can help you decide what program is right for your family based on a few questions. Contact us to learn more about programs. 
Homestudy: During this process, you will explore in-depth issues related to being an adoptive family with your social worker.
Apply for USCIS Approval: You must obtain permission from the U.S. government to bring a child into the United States from another country as an immediate member of your family. LBB will assist clients with the filing of these petitions to ensure they are filed accurately and timely.
Prepare and submit the Dossier: "Dossier" is a term for a collection of documents prepared in a specific way for a specific country which will present information to the adoption officials about your physical, mental and emotional preparedness to adopt. Typically it includes financial, employment and marital status verifications, health and criminal clearances, references, home study, family photos and other items as each country requires. LBB's dossier specialist will provide you with a dossier guide, templates and support to help you complete your dossier.
Presentation of child referral: The waiting time for a referral varies greatly by country and depends on many factors including age and gender of child or level of special needs. Typically applicants adopting an infant or young toddler will wait longer than those adopting a special needs child, large sibling group or older healthy child.
Travel to adopt your child: LBB will provide you with a travel guide and recommendations for travel to your child's country. Our staff and facilitators in country will meet you at the airport and escort you to all adoption-related appointments including visits to the orphanage if possible. Depending on the length of the trip local tours may be arranged with the assistance of our staff.
Post Placement: Upon your return home, your social worker will visit your family to assist you with transition issues, ask about your child's health and developmental growth and transition, and provide you with therapeutic resources in your community. A report will be written containing information from the visit and together with photos of your child and family submitted to the foreign country of adoption. Three visits and reports are typically required, more may be required depending upon the country of adoption.
Stay Involved with LBB: Adoption is a lifelong journey. We offer continued support and guidance for families as you move through the years. Especially families struggling with the transition or if issue arise after adoption, please reach out to our post placement team for support and guidance. We hope you will consider us your adoption partner during and after your adoption.
If you would like more information on International Adoption contact LBB at info@bbinternationaladoption.com or Contact Us.  If you are ready to start the journey to your child fill out an application.