Haiti Adoption Program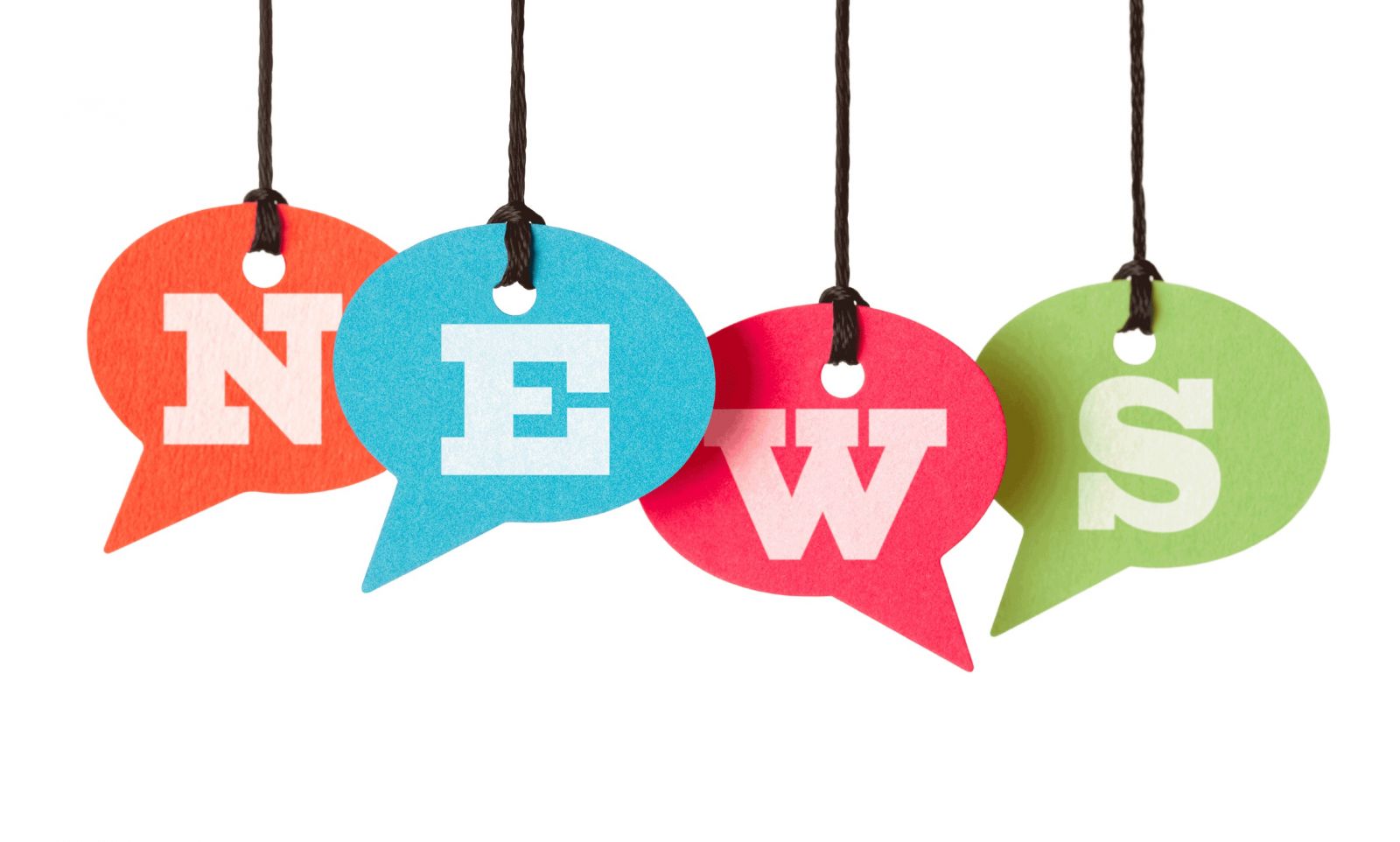 September 2015:  A Love Beyond Borders has an active, robus adoption program in Haiti. Recently we filed our required Annual Report of Adoptions in Haiti to IBESR, the Central Authority in Haiti. Each agency accredited in Haiti has the same, limited number of adoption files we are able to submit each year. A specific amount of requests for special needs children (medical or emotional needs, older than six or part of large sibling group), as well as healthy children with minor or correctable special needs. Files for special needs children this agency submitted within this past year included: 1 for older child with cerebral palsy, 3 files for HIV+ children, 3 files for families wanting siblings up to age 14, 1 file for a boy age 8-10, 1 file for a child with arthrogryposis, 1 male with autistic spectrum age 7. In our count of "healthy placement" we submitted files for all healthy children and also submitted files for five families open to healthy sibling's ages 0-6. We are proud of our work to help the most fragile, at-risk children of Haiti and look forward to helping many more in the coming year. 
---
Haiti Adoption Program
Why Haiti? Adopting from Haiti is a wonderful option for so many reasons. Haiti lies just off the coast of Florida and is a very quick and easy flight from Florida. As an island it is surrounded by azure seas, tropical winds blow frequently and there are startling blue skies and mountains. It's affordable, quick and easy to travel from the US mainland to Haiti. It is estimated that there are nearly 1 million orphans in Haiti, a staggering number in a country with just over 8 million in total population.  Extreme poverty is the number one reason that so many little ones find themselves without the permanency of a family.  Despite these hardships, the children of Haiti show great resiliency and determination.
Haiti's adoption laws changed in 2013 and are now in effect although the process is still unfolding as it develops.  The criteria for adoptive parents is less restrictive which means more individuals and couples now qualify for adoption in Haiti, and more Haitian children will have greater opportunities for a family. Currently under the new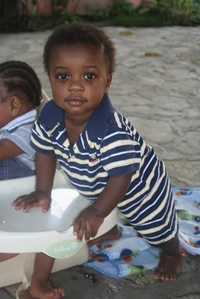 adoption process in Haiti, each authorized agency may submit one dossier each month for a child who is healthy with mild to correctable special needs. Dossiers for children with moderate to severe special needs may be submitted at any time by the agency. We are hopeful that in the future agencies may submit more dossiers as the need of the children is significant. 
A Love Beyond Borders has had a strong and vibrant Haitian adoption program since our inception, due primarily to Stephanie Thoet, LBB's talented Haiti Program Manager. Stephanie has been assisting in adoptions in Haiti for over 12 years, has three children adopted from Haiti, and knows the country, culture and processes inside and out. If you are considering adoption from Haiti, we encourage you to contact Stephanie directly to learn about the program, the amazing children and to see if you qualify to adopt in Haiti. Talk directly to Stephanie, LBB's Haiti program manager via email, haiti@bbinternationaladoption.com. 
When you choose A Love Beyond Borders to complete your Haitian adoption you will receive exceptional service from Stephanie and all of our experienced staff.  Our staff, attorneys, orphanages and facilitators working in Haiti, all are committed to excellent service and to the best care of the children.
Children Available:
• Healthy infants to 11 years old at time of referral.
• Special needs children with mild to severe needs of all ages available.
• Many sibling groups are available.
• Twins are sometimes available
• Haiti has recently stopped allowing adoption of unrelated children but many sibling groups are available of all ages.
Adoptive Parents Requirements:
• Married couples and single, heterosexual women and men can adopt from Haiti.
• Couples should be together for at least 5 years.
• If married, at least one parent should be 30 years old.
• Single applicants should be 35 years old.
• Maximum age of any adoptive parent is 50.
• Haitian law requires that adoptive parents are a minimum of 14 years older than the adoptive child.
• No limit to the number of children already in the home.
Timelines & General Process:
• Parents are usually able to complete their adoption within 24-36 months after submitting their dossier to IBESR, although the timeframe for any adoption depends on several factors within the US and abroad.
• LBB's dossier coordinator will fully assist you with the information and guidance necessary to complete your dossier. Once your dossier is completed it will be translated into French and then sent to Haiti. We will guide you on each appropriate step. Please be advised that the timelines above are estimates based on most recent adoptions, and due to the changing and implementation of the new laws and procedures that these timelines can vary greatly and increase without warning. 
• After referral of your child, both prospective adoptive parents are required to travel to Haiti to meet the child and go through an approximately two week bonding time with the child. You then go home until you return to Haiti after the adoption is complete to bring home your child.
Bringing Your Child Home After Adoption:
• Once you have completed all the required legal steps of the adoption you will travel to Haiti to receive your child.
• All immigration steps including receipt of the child's travel visa will occur before you arrive in Haiti.
• A Love Beyond Borders strive to adhere to "best practice" for the children we serve. For numerous reasons we do not allow families to travel to Haiti for "visits" unless required by Haitian or US law, or if we see that it will benefit the processing of your case. This policy is for your safety and physical well-being as well as the child's emotional well-being. We do understand your desire to see your child and be with your child, but we also realize the heartbreak of the children upon your inevitable departure.
• Your child will arrive home as a US citizen.
To learn more about adopting from Haiti and speak to the Haitian Program Manager click haiti@bbinternationaladoption.com.
Haiti Country Facts:
The Republic of Haiti covers 10,700 square miles (about the size of Maryland) and occupies the western third of the Caribbean Island of Hispaniola, which it shares with the Dominican Republic. Much of the country is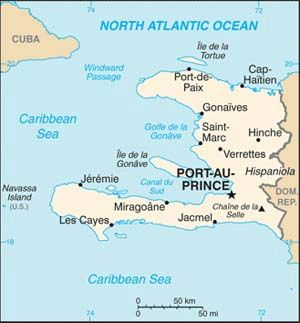 mountainous and many areas are uninhabitable due to rough terrain. Haiti's road system is very primitive and has very few paved highways. The average temperature in Haiti ranges from the mid 70's to the mid 90's year round, is frequently humid although it can feel cooler in the mountains.
The name Haiti actually means "mountainous land" in the language of the Arawak and Taíno, the indigenous groups who were the first inhabitants of the island. Haiti was settled by the Spanish, but was soon taken over by the French. Over the following decades, the French brought hundreds of thousands of people from Africa to work as slaves in the sugar cane fields. Haiti quickly became the sugar cane producer of the world. In 1804, a great slave revolt led to an end of this abusive colonial system, and Haiti became the first black-led republic of the world. Haiti was the second country in the Western Hemisphere, after the United States, to become an independent nation. The capital of Haiti is Port-au-Prince. There are approximately 7,500,000 citizens living in Haiti. It is the poorest country in the Western Hemisphere with 75% of the population living below poverty level. Unemployment is about 60%, and the literacy rate is about 55%. One in five children will die before their 5th birthday from malnutrition or disease. The official languages in Haiti are French and Creole. The vast majority of the population speaks only Creole.
If you feel that adopting a child or children from Haiti is your heart's desire please fill out the application today at Apply for Adoption.