Colombia Children Waiting for Adoption
Note: Click on a child's name or photo to see more detailed information for the child or to submit an inquiry for the child.
Welcome to our Waiting Children page for children in Colombia. We have many waiting children of all ages, most of them 10-15 years old, healthy and some with all levels of special needs. However it's important to note that countless children under the age of 10 are waiting, as yet unidentified, due to a special condition of some sort. If you're seeking to adopt a child with a specific condition please ask us!  Because our list is very fluid and choosing a waiting child to host/adopt is a personal and intimate process we encourage you to contact us directly to inquire about a specific age, gender or special need of a waiting child. Not all children are featured at any given time, and while we do our best to keep the list updated it may be out of date. We will always reconfirm a child's legal status of availabilit before accepting your commitment and fees for the adoption. We look forward to learning about your family, plans to host/adopt a child and will share with you the information and photos of the children who are waiting.
Please email info@bbinternationaladoption.com to inquire today! 
Welcome and thank you for visiting the photolist of children waiting for adoption in our Colombia Program.  This is an interesting new program and we have substantial growth in the number of children available. Please get to know the kids in our list and call us at 303-333-1572 or submit an inquiry for any child in which you have an interest and an adoption professional will contact you quickly.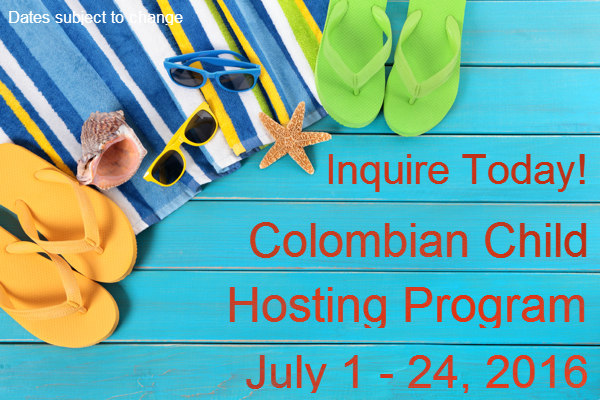 And don't forget to inquire about our December 2015 Colombian Child Vacation Program. Click on the photo for additional information. These children are all available for adoption as well! 
It only takes 2 minutes to register to view our Waiting Children!
To view the pictures and profiles of our children, you must create a password protected account on our website. Here's how:
1. Please read our Confidentiality Agreement below to understand your obligations when accessing waiting children information and instructions for creating account on our site.
2. Register for an account and you will have access to the Waiting Children listings for all of our programs.