Colombia Adoption Program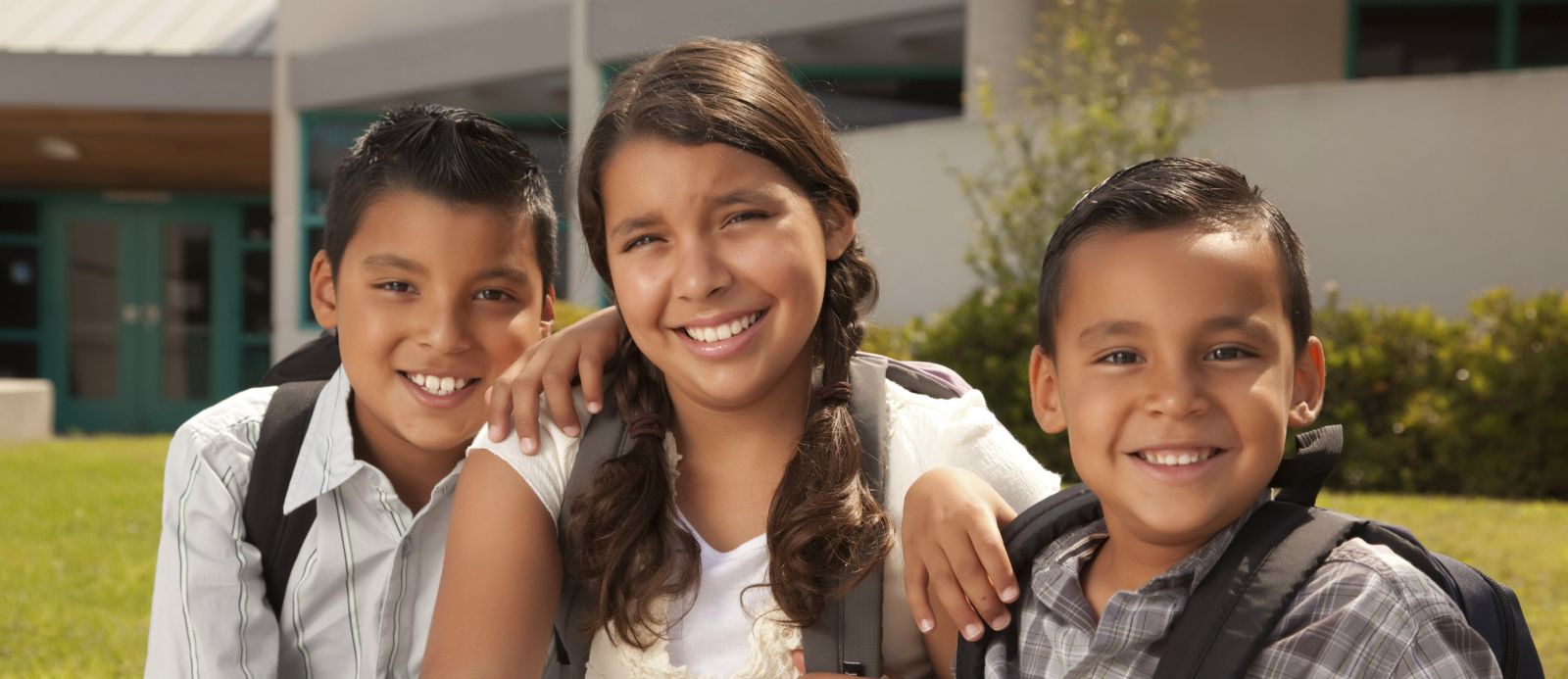 The Colombian adoption program is well-established and stable. In recent years, the Colombian adoption authorities have actively moved towards advocating for their waiting children who are sibling groups, sibling groups and children with medical and developmental needs. Colombia is a country with a beautifully diverse culture and a well-built, ethical system of adoption. The central authority in place to oversee adoption is called the Instituto Colombiano de Bienestar Familiar (ICBF), also known in English as the Colombian Family Welfare Institute. The ICBF works closely with authorized, private children's homes and a stable foster care system to find the best situation for each child in need of a forever family.
Children Available for Adoption in Colombia: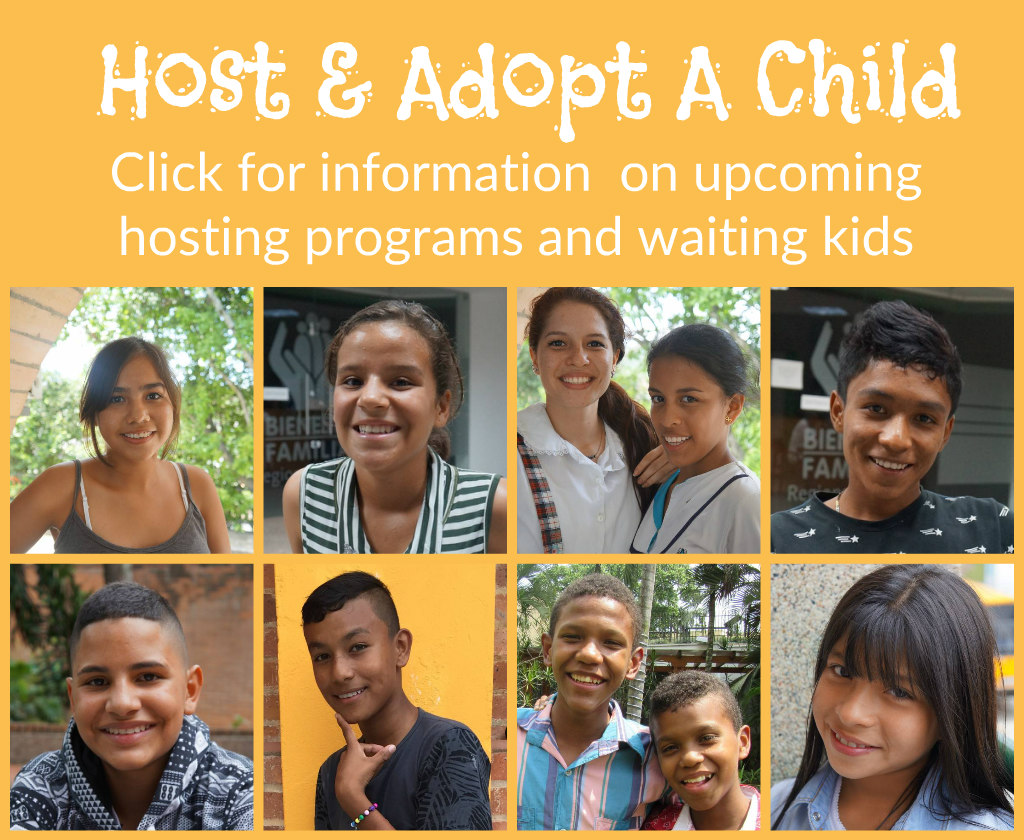 Healthy boys and girls 6 months to 8 years old are available for adoptive parents with Colombian Heritage only.
Boys and girls 18 months to 15 years old with special needs
Boys and girls over 9 who are considered healthy with minor correctable needs
Healthy children who are part of a sibling group where at least one child is older than 8 years old.
All children are of Hispanic, Indian, African or mixed racial heritage. Families may not request a specific ethnicity.
Adoptive Parent Requirements in Colombia:
Parents should be at least 25 years old.
There may not be more than 45 years difference between the parent and the child they seek to adopt. Some exceptions are allowed if adopting older or special needs children, but please speak with an ALBB staff person to see if you qualify. 
Married couples, single women and men are able to adopt.
Due to recent changes in the adoption laws of Colombia, gay and lesbian's and married same sex couples are allowed to adopt. 
Couples should be able to document being together at least 3 years. There is no specific length of marriage requirement.
Single women may adopt boys or girls who are over 9 years of age or who have a special medical or developmental needs (special characteristics children).
Single men may adopt boys who are over 9 years of age or who have a special medical or developmental needs (special characteristics children)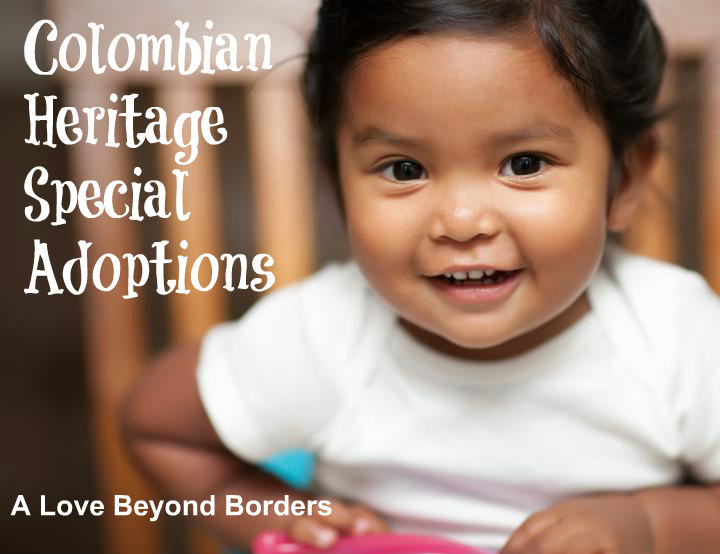 SPECIAL PROGRAM FOR THOSE WITH COLOMBIAN HERITAGE
For adoptive parents of Colombian descent living in the US, ICBF has created the "privilege of protocol" to expedite the adoption process for you. To qualify at least one adoptive parent or at least one of his/her parents should have been born in Colombia. POP families have the ability to adopt younger, healthier children including babies and toddlers, reduced fees, and typically a faster process since ICBF prioritizes adoptions to Colombians. If you already have the required Colombian naturalization (and Colombian Passport) or believe you qualify for this program, please contact A Love Beyond Borders for information on this wonderful opportunity that awaits qualified individuals.
The following are the age requirements for Colombian national adoptive parents and the ages of children they may adopt:
FOR COLOMBIANS MARRIED OR SINGLE: Ages 25 to 45 the age of children available for referral would be 0 to 4 years and 11 months. If adopting siblings families should be open to 0 to 6 years and 11 months.Colombian applicants who are ages 46 to 50 qualify to adopt children 5 to 9 years and 11 months old and if adopting siblingsbe open to a child from 7 to 9 years and 11 months.
Applicants should be prepared to accept a referral from ICBF within their approved age range. ICBF issues the referrals and typically, although not always, the younger the adoptive parents the younger the child referred. 
Waiting Child Program for all Applicants:
Are you open to a child 10-15, part of a large sibling group, or special needs child 1-15 years old? If so, look no further than Colombia! There are countless children available for adoption in Colombia who remain there because they have a mild to significant special need and are up to age 8, 9 and older, or part of a large sibling group. Many of these older children and sibling groups are healthy, but yet they continue to wait.  A Love Beyond Borders has many children in our Waiting Child section of our website who are available for adoption now to qualified applicants. We also have many more not yet featured on our website, so please ask if you are seeking someone special for your family!   Families who adopt a waiting child through our program will have a faster process than those families in the traditional process because the 9-12 months estimated to receive a referral is eliminated by choosing a waiting child. Much of this timeline depends on whether or not you have an approved home study when beginning the process.
Colombia Vacation Program (Host to Adopt):
Colombia's Central Adoption Authority, the ICBF, partners with A Love Beyond Borders to find families for children who qualify and participate in our Host to Adopt program. Each year in July and December, a group of children 10-15 are hosted by prospective adoptive parents or child advocates for several weeks in their home. The program offers the children a unique and life-changing opportunity to visit a new country and live in a home as part of a functioning, loving family. It offers the host parent/s an opportunity to get to know a child whom they might consider adopting, and get to know the child before making a commitment to the adoption. Advocates host children not to adopt them but to help broaden the child's exposure to other potential adoptive parents within their community. Please check on our link above to learn about the program and benefits. Timelines for the adoption are faster than the traditional program as ICBF does expedite the adoption process for these children.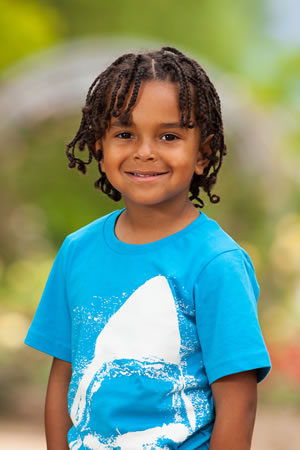 Estimated Timeline for Colombian Adoptions:
Families in the traditional or Heritage program typically receive a referral within 9-15 months after submission of dossier depending on the type of child requested. Families seeking to adopt a child with significant special needs or who are open to gender and children 12 and older may receive a referral much sooner.
Families who select a waiting child or participate in the Vacation program will complete their adoption faster since they don't have to wait 9-15 months for referral of a child. 
All wait times are from the time the dossier is approved by ICBF.
The waiting time from acceptance of the official match by ICBF to travel for court is about 3-4 months.
Adoption Process for Colombia :
Submit application to A Love Beyond Borders. Once your application is approved and contract received you will begin working on your home study and dossier. When your home study is complete we will assist you in submitted your I800A to USCIS for pre-approval of your adoption. 
Once families have completed the dossier, all documents will be translated then registerd to The Colombian Central Adoption Authority, ICBF. The process of translating, submitting, registering and approving the dossier will take 3-4 months. Families may be asked for additional documentation at this time which may slow the process.Once you're approved by ICBF to proceed with the adoption you will either be put on the national wait list for a referral or if adopting a waiting child or child you hosted, you will  receive your official child referral. We will then assist you with filing the second part of the USCIS paperwork, the I800. Once that is approved (6-8 weeks later on average) you can expect to travel within a month -- maybe even a few weeks! LBB will prepare families for travel. The stay in Colombia will be approximately 4 weeks on average. Both parents must be present in Colombia for the first two weeks then one parent may return home. The second parent must remain in Colombia to finish the process. Once families receive their travel date, they travel and are met at the airport and will be assisted with all adoption related appointments while you are in the country by a bi-lingual staff person.  Your child(ren) will join your family a few days after arrival. Please note that both parents must travel to Colombia for at least two weeks, and then after a certain legal part of the process one parent may return to home until the end of the process. We do encourage both parents to remain in Colombia the entire time if possible to bond with your child and get to experience the beautiful and diverse country of your child's birth. 
Timelines for in-country stay depend on many factors outside of the control of the agency and thus should be seen as estimates not guarantees. 
Post Adoption:
ICBF requires that adoptive parents participate in a minimum of four post adoption services after the adoption of their child. This includes a visit in the adoptive home with all members of the family, an interview to hear about the child's adjustment in the home. A report will be written and must then be apostiled, translated (costs charged to the adoptive family) and then translated in Colombia prior to submission to ICBF. The first post adoption report (apostile'd and a minimum of six photos of the child) are due to A Love Beyond Borders the month prior to the due date in Colombia. Currently this is 6 months after the adoption decree , 12 months, 18 months and 24 months. 
To learn more about adopting from Colombia and speak to the Colombian Program Manager click colombia@bbinternationaladoption.com.
Learn about Colombia:
Colombia is located in northwestern South America, bordered to the northwest by Panama; to the north by the Caribbean Sea; to the east by Venezuela and Brazil; to the south by Ecuador and Peru; and to the west by the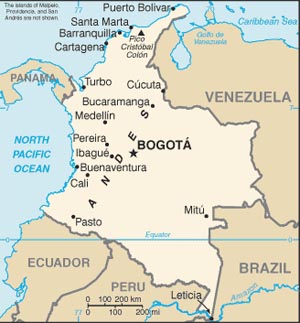 Pacific Ocean.  Colombia is very ethnically diverse, and the interaction between descendants of the original native inhabitants, Spanish colonists, Africans originally brought to the country as slaves, and 20th-century immigrants from Europe and the Middle East, has produced a rich cultural heritage. The name "Colombia" is derived from the last name of Christopher Columbus (Italian: Cristoforo Colombo; Spanish: Cristóbal Colón). It was conceived by the Venezuelan revolutionary Francisco de Miranda as a reference to all the New World, but especially to those under the Spanish and Portuguese rule.
Bogotá is the capital city of Colombia.  In terms of land area, Bogotá is the largest city in Colombia, and one of the biggest in Latin America. It figures among the 30 largest cities of the world and it is the third-highest capital city in South America.  With its many universities and libraries, Bogota has in the past been called "The Athens of South America".
According to the 2005 census, 49% of Colombia's population is Mestizo or of mixed European and Amerindian ancestry. Approximately 37% is of European ancestry (predominantly Spanish, and a part of Italian, Portuguese, and German). About 10.6% is of African ancestry. Indigenous Amerindians comprise 3.4% of the population. The 2005 census reported that the "non-ethnic population", consisting of whites and mestizos (those of mixed white European and Amerindian ancestry), constituted 86% of the national population. More than 99.2% of Colombians speak the Spanish language, but also 65 Amerindian languages, 2 Creole languages and the romani language are spoken in the country. English language also has official status in the San Andrés, Providencia and Santa Catalina Islands.
If you feel that adopting a child or children from Colombia is your heart's desire fill out the application today at Apply for Adoption.